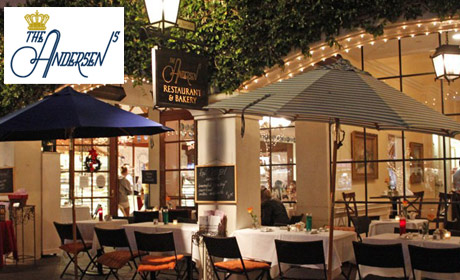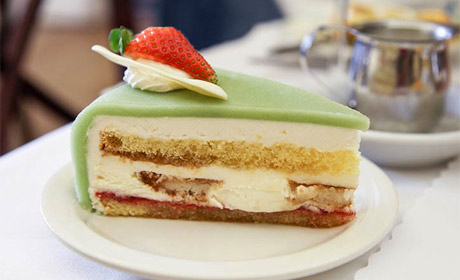 For over 35 years, Andersen's Restaurant & Bakery in the historic La Arcada has been serving locals and visitors with the finest authentic Danish and European cuisine and bakery items for breakfast, lunch and candlelit dinner at one of the most charming locations on the West Coast.
At The Andersen's, you can people watch on the sidewalk patio while savoring European style cafe cuisine or dine indoors where the European castle motif is adorned with Royal Copenhagen plates, Danish tile work, gleaming copper pots, fresh flowers, shimmering chandeliers and gilt framed original oils painted by Mr. Andersen. The beautiful, newly renovated LiseLotte room is locals favorite that also provides ample room for parties!
The Andersen's breakfast menu features Eggs Napoleon, Crab Cake, Turkey and Smoked Scottish Salmon Benedicts, Homemade Sausage, and, warm Danish's, Strudels and Croissants.
The lunch menu features traditional Smoked Scottish Salmon, Fiskefilet with Rémoulade, Andersen's own Chicken Liver Paté and Roast Beef Danish smørrebrød open-faced sandwiches on freshly baked bread, salads, burgers and, numerous other delectable options and changing lunch specials.
The Andersen's 'High Tea' that features a festive tier of scone, apple strudel, small sandwiches, a Petite Four, a small cream pastry and strawberries in season accompanied by your choice of teas is served from noon to 9pm daily.
Dinner is served by candlelight at Andersen's to from an extensive menu that features a magnificent marbelized Rib Eye Steak, Smoked salmon with dill sauce, tender, slow roasted Scandinavian Duck, Vol au Vent, Jaeger Schnitzel and other European favorites like the hearty Hungarian Goulash and authentic Frikadeller and Hakkebof. An exquisite wine list includes selections from the Foxen, Wolff Winery, Ancient Peaks, Renard and many more wineries; and, the dessert selections are the perfect conclusion to an outstanding culinary adventure. The PRIX FIXED JAZZ evenings that feature live music from Nicole Lvoff, Randy Tico and Chris Judge create a unique dining experience.
The Marzipan Butter Ring is the specialty at Andersen's world famous bakery that also offers a wide array of baked to perfection pastry; and, they'll even ship their world famous Christmas Kringles, Cookies, Marzipan Candies, layer cakes and other mouthwatering bakery selections when you visit andersenssantabarbara.com.
In Denmark a bakery and restaurant combo is called "Konditori." Here in America, Mrs. Andersen and Charlotte welcome you to the LAND OF ANDERSEN'S, where the passion for quality and love of the beautiful pastries and cakes are ever present and the new avant-garde take on northern European cuisine that focuses on the Danish but oh so much more will keep you coming back to this very special dining experience located in the heart of downtown Santa Barbara at 1106 State Street. 805.962.5085.