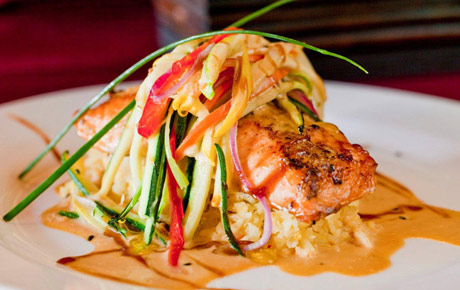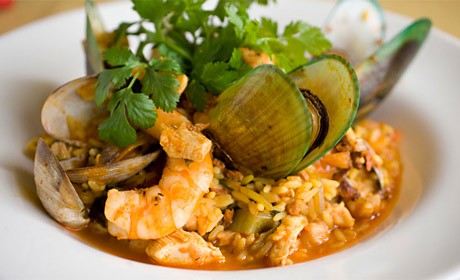 A local favorite for 28 years, Opal Restaurant & Bar thrives on the creative contrast between exciting innovation and comfortable tradition. As soon as you step inside, you know you are in for a special experience. Sophisticated yet comfortable, Opal Restaurant & Bar radiates a warm, friendly ambience combining the elegance of a trendy San Francisco bistro with a genuine hospitality that seems to come naturally to their well-trained staff of servers and chefs.
From your first glance at the menu, it's easy to see why Opal is such a favorite, featuring eclectic California cuisine inspired by dishes from around the world and the multi- cultural heritage of America. Offering everything from an Herb Grilled 14 oz Ribeye Steak, to spicy authentic Paella, fresh seafood, homemade pastas & soups, deliciously imaginative salads, elegant Asian-accented appetizers, and homemade desserts, Opal's menu truly has something for every taste.
If you are a wine lover, you are in for a treat at Opal Restaurant & Bar. Winner of the Wine Spectator Award of Excellence every year since 1993, their extensive wine list features a hand-selected mix of French, Italian, Australian, Spanish and California wines, with new wines added weekly. With its full bar and unique Martini specialties, Opal is also a great place to drop in for a drink and an appetizer before a movie or a night on the town.
If you need a private space for your group, Opal has a separate, attractively decorated, banquet room that adjoins the main dining room, with its own sound system, kitchen and separate entrance.
The philosophy of proprietors Tina Takaya and Richard Yates is simple, "People are hungry for more than just great food. We seek to create an experience that removes barriers and creates a connection between people; one that ultimately nurtures the soul as well."
With its warm and welcoming style, delicious and diverse menu, excellent wine list and full bar, all at reasonable prices, this is the kind of restaurant you can go back to again and again. And when you do, don't be surprised if you recognize the folks at the table next to you. Chances are, the same thing happened to them! Opal Restaurant & Bar is located at 1325 State Street near the Arlington Theatre. (805) 966-9676.