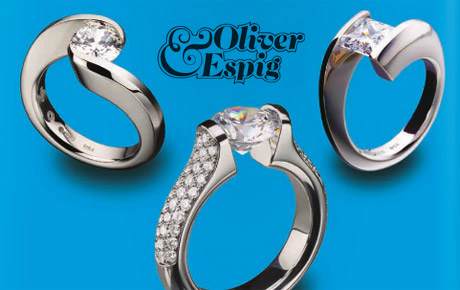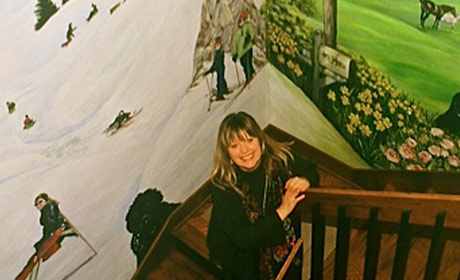 Maryvonne LaParliere Art Exhibited at Oliver & Espig Gallery of Fine Art
I can still remember my little kindergarten school table in my native country of France. I remember how my young four-year-old nose was nearly pressed onto my drawing paper as I feverishly created. The environment around me seemed to vanish. I was alone. The only thing that mattered at that moment was my painting of a cherry pie. Only Heaven knew how my young heart would ache if I could not capture the rich, decadent color of the custard! My passion for art, fanned in the flames of my youth, still burns intensely today. I was born to be an Artist!
Later, I enrolled in the famous art school, "Les Beaux Arts." At that time, Acrylic painting was just beginning to gain recognition as a medium. I tried it. I loved it. Since then, I have achieved wonders with it. I also discovered that the flat, four-cornered canvas was too confining for me. I love space. I wanted to go further, outside of the frame, so I did. I began to incorporate the three dimensional world into painting scenery on the entire surface of furniture.
When I moved to California in 1986, hand-painted furniture, especially the way I did it, was rarely seen. My painted furniture got attention right away. In 1988, the national magazine, "Victorian Sampler," in which my work was featured reported that, "Maryvonne LaParliere was one of the precursors and perhaps the one to establish the concept of painting an entire scene on a piece of furniture…" From there, I naturally progressed to painting on walls. I delightedly embellished murals of all sizes and shapes.
I love space. I feel comfortable with it and know how to use it. I believe it just comes naturally to me. Over the years I have created the most intricate scenes; pastoral countrysides, rich and diverse landscapes, breathtaking oceans, wild jungles, and untamed forests. I have also beautifully captured renditions of many other elements of the world such as people, animals, flowers and the change of seasons.
Over the years, I have noticed the charm and attraction that children have for my paintings. Perhaps it is because children sense that I have kept my inner child alive? I create with spontaneity, fundamental happiness, unbridled genius, and sheer and utter delight in the Nature I behold!