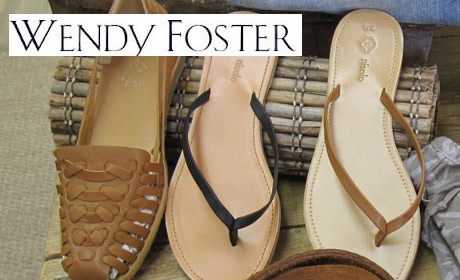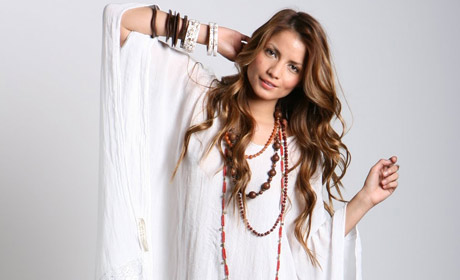 Born in New York, Wendy Foster grew up in Santa Barbara, spending her summer vacations at her mother's home in Massachusetts. She always had an independent streak and ended up leaving home at age 17, not returning home until her late twenties. She attended college in Mexico, Massachusetts and Paris. During this period of time she really got the travel bug and decided to get more education by traveling the world. And she did just that, for 10 years all by herself.
When she first decided to open a store she looked in her own closet and drawers and counted the number of items in each category, skirts, blouses, t-shirts, pants, jackets etc. She quickly realized the appropriate proportions and purchased her merchandise for her store based on her own personal assessment of her wardrobe. Three tops to every bottom and it was just right! Of course, that has changed since then and continues to change each season. She says recently people weren't buying any bottoms at all for a few months in any of her stores. That had never happened before.
Wendy now has 4 stores. The first stores were and still are in the Upper Village in Montecito. Wendy Foster, Wendy Foster Upstairs and Angel. The square footage grew to about 10,000 square feet in Montecito and includes a "gourmetisserie", house wares, tabletop, garden, children's wear, books, men's wear, bedding, wine, chocolates and gifts. Wendy Foster State Street, one of downtown Santa Barbara's premier shopping destinations for over 20 years, offers discerning shoppers the opportunity to create entire coordinated outfits, often featuring lines designed locally or not available elsewhere, from an extensive inventory of clothing and accessories.
Wendy travels to Paris to do much of her buying, bringing collections of the European culture back for local fashion lovers to cherish.
She recently commented on her unique recipe for successful buying: "Because of my traveling and interests, I don't just rely on going to the fashion trade shows. I don't just sit back and pick things from what's being presented to me. I'm proactive. I may see someone on the street and run after her to ask where she got her clothes. I'm always aware of what's going on around me, what people look like and what's coming next."
Each clothing store also has its own buyer therefore a different identity and individuality but with the Wendy Foster touch. All of the buyers worked with Wendy for some time before they became buyers.
Wendy and her husband Pierre LaFond also own the LaFond Bistro Restaurant at 516 State Street in Santa Barbara and at 516 San Ysidro Road in Montecito, the Santa Barbara Winery at 202 Anacapa St. in Santa Barbara and LaFond Winery in Buellton.