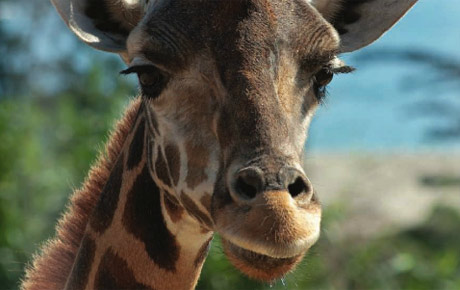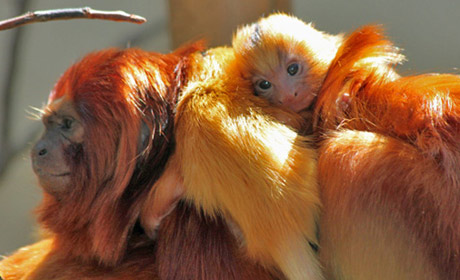 The Santa Barbara Zoo welcomes several new residents this summer including two gangly Masai giraffe calves and some high tech dinosaurs.
Gangly Giraffe Calves

Both the Zoo's female Masai giraffes gave birth in April, just ten days apart. Audrey gave birth first, to a male calf, named Dane. Betty Lou's female calf is named Sunshine.
Michael, the proud papa, arrived from Canada in January 2012. He is genetically valuable, making this an even more welcome event. He's now separated from the others by a temporary "baby" fence installed in the giraffe yard.
"This is standard giraffe management after new births," reports Sheri Horiszny, the Zoo's Director of Animal Programs. "The calves need to get a little bigger before they meet their giant dad. He's 18 feet tall!"
The fence should come down soon and the giraffe family all can be together. The adults can be hand-fed at the Giraffe Deck. Check at Admissions for the feeding schedule.
Dinosaurs on Stage
Another tall arrival is a 16-foot long, 10-foot high parasaurolophus. Aren't dinosaurs extinct? Not at the Zoo, where "Lily" is one of three engaging dinosaurs who appear in the live stage show "Dino Doc."
She joins Duncan, the Zoo's popular T. Rex who arrived in 2011, and an adorable hand-held "baby" triceratops.
During the family-friendly 15-minute lively presentation, human hosts show how veterinarians treat the Zoo's animal residents.
"We can't bring elephants out every day to show a check up," says Horiszny. "But we can use these realistic looking dinosaurs to show what it entails, and let kids help with the exams."
Lily has a surprise in store: she sneezes (don't worry, it's water). Maybe she has a cold? Young volunteers from the audience listen to the dinosaurs' heartbeats, check their eyes and ears, and do other exams. After each show, the dinosaurs stay on stage for photos.
The Zoo's dinosaurs were designed and hand-built by the Chiodo Bros., a Hollywood "creature shop," and are sponsored by the Duncan family.
Show are daily through Labor Day and are free with Zoo admission. After Labor Day, "Dino Doc" is on weekends only. Audience seating is on a grassy hillside.
The Santa Barbara Zoo is the region's number one visitor attraction and is open daily 10 a.m. to 5 p.m. Visit www.sbzoo.org.