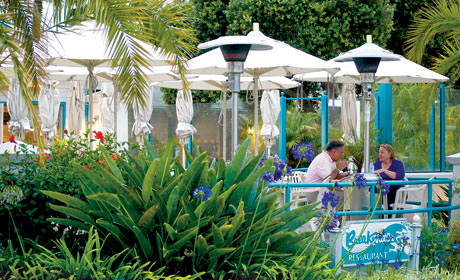 Whether you start with a leisurely stroll along Santa Barbara's beautiful breakwater or enjoy it after, you'll want to make sure your visit includes a stop at the Breakwater Restaurant. Sitting on the large comfortable patio you'll overlook gently rocking boats, hear the distant sound of sea lions calling to one another and witness multitudes of graceful sea birds. All of this while enjoying a satisfying meal that will make you want to return time and again; you'll soon know why they have become a local's favorite choice for all meals. Experience nature's glory from golden sunrise to the majestic colors of sunset. Early bird specials are available at dinner as well as a special menu for your little mariners.
Start your day with an ever popular breakfast. Three egg omelets will give you a filling start. Sunrise, California, Meat, Fresh Spinach and Italian are but a few of the omelet selections available. Other breakfast favorites such as Eggs Benedict, Eggs Florentine, Waffles, Pancakes and French Toast are on the menu. Many other traditional breakfast staples await you as well. Complement your great breakfast with a refreshing mimosa.
Lunch time brings Breakwater's award winning Clam Chowder, famous Fish and Chips, hearty sandwiches and generous entrée salads. Looking over the lunch menu you'll find old time favorites like the Club, Tuna Melt and the BLT. Their Rueben is made with delicious home cooked corned beef, and there's still more to be discovered. Scrumptious salads include traditional Crab or Shrimp Louie's, Cobb and Chef or enjoy a flavorful Chicken Fajita salad. The list contains more to savor. Flavorful fresh local fish dishes are available both lunch and dinner.
Breakwater's dinner menu has many satisfying choices. You'll find chicken, seafood, steaks and pastas. For example there is Chicken Piccata, a choice Sirloin Steak and center cut Pork Chops. A very popular choice for both lunch and dinner are the Fish Tacos. Most items from the lunch menu are available if you are looking for something lighter. Breakwater Restaurant also features a different special each night of the week. Thursday is roasted TriTip, Friday Shrimp Scampi.
For dessert there is a variety of delicious ice cream flavors and pies. Their ice cream cone sign has become a local landmark; many stop by to get an ice cream cone to take on their walk along the breakwater. Breakwater also features a list of select wines and beers to be enjoyed while taking in the ambience of the harbor.
You'll find the Breakwater Restaurant at the scenic Santa Barbara Harbor, 107 Harbor Way. 805-965-1557. sbbreakwater.com. Breakfast, lunch and dinner are served seven days a week. Celebrate your special occasion with the Breakwater! Group accommodations available.