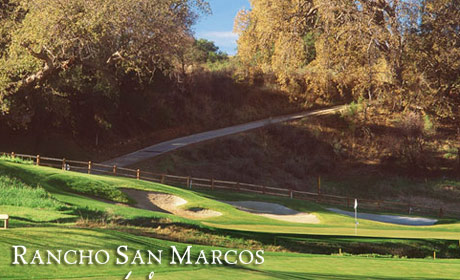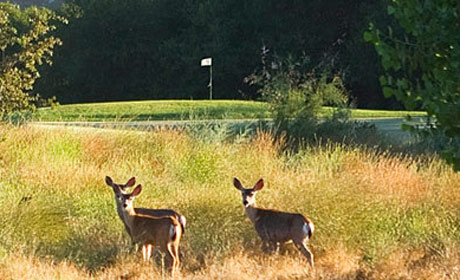 "At Rancho San Marcos Golf Course, golf isn't just a game. It's an experience." - Golf Today
Conveniently located off highway 154, just 15 minutes west of the Santa Barbara beaches, and 15 minutes east of the wine country community of Santa Ynez and Danish village town of Solvang, Rancho San Marcos Golf Course delivers a new level of golf course quality and customer service.
An instant classic since its inception in 1998, this Robert Trent Jones Jr. designed course located on 300 spectacular acres is both a treasure to behold and a strategic challenge that exudes the understated elegance and exclusivity that only private clubs extol.
Rancho San Marcos offers magnificent vistas surrounded only by nature's beauty adorned by centuries-old oak trees and stunning views of the Santa Ynez River Valley, distant furrowed peaks, and eagles soaring above Lake Cachuma – without a trace of urban development in sight. This world class course, tucked deep into the valley floor of the Santa Ynez Mountains has kept the essence of the old ranch which was located here since the Spanish land grant of 1804. The simple and pastoral setting combined with the classic game of golf, makes Rancho San Marcos the ideal location to forget the troubles of the world and reminisce on a quieter, simpler time.
At 6,939 yards and a par 71, Rancho San Marcos provides golfers of all skill levels such an enjoyable and rewarding golf experience that Golf Magazine named this Ty Warner property one of the "Top 10 Golf Courses You Can Play", and, Golf Digest awarded it 4 ½ stars among the top 201 golf courses in the United States.
Rancho San Marcos and its stunning scenery have also been featured in national advertising campaigns for both print and television.
Archeological evidence discovered at Rancho San Marcos indicates that Prehistoric hunters and gathers occupied this region for more then 9,000 years. Descendants of the Chumash Indian tribe, one of North America's most complex hunting and gathering societies, were active participants in Rancho San Marcos archaeological investigations.

For more information about this spectacular golf experience, call (805) 683.6334 or visit www.rsm1804.com.